---
Here's feedback from some of my students who get big results from taking lessons with me…
I am very proud of all of them - they've worked hard to reach their goals and continue to grow as great guitar players. 
I've had the privilege of teaching guitar lessons to  hundreds of people from the Southampton area since 2011 and some continue to take lessons with me to this day! 
 Jimmy 
---
---
Tom: " I was stuck in a rut…"
Alex: ...kickstarted my progress on the instrument...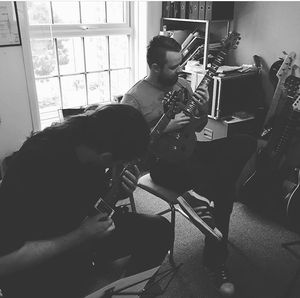 "Jimmy is a fantastic guitar teacher and all round top bloke.
I first took lessons with him after having around a 10 year break since my last lessons as a teenager. Although I had kept playing throughout the intervening period I'd developed plenty of bad habits, which Jimmy quickly identified and helped me fix. This really kickstarted my progress on the instrument again and allowed me to make great progress towards my goals.
Jimmy's extensive experience as a gigging and recording guitar player give him an excellent background to offer general advice in addition to musical tuition.
I would not hesitate to recommend him to guitar players of all ages and experiences who want to improve and enjoy the instrument to the fullest."
Alex K. Salisbury, UK
---
"A lot more professional than guitar lessons I've had in the past..."
Mark S. Southampton, UK
---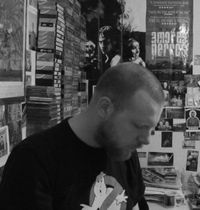 "As a complete beginner I have been delighted with my lessons with Jimmy. With a long standing desire to learn guitar and various failed attempts to do so behind me I felt that I needed to be taught by someone who knows how to do just that, Teach!
Jimmy has structured lessons to go at my pace and has found the right balance between learning and fun; this is rarity with guitar teachers. Jimmy's guitar knowledge is second to none but he has a wide knowledge of music, not just what he has done, as well. This context has made conversations about my goals far easier.
I can't recommend Jimmy highly enough not only is he exceptional at his job but he is a great guy to spend time with..."

Sam F, Winchester
---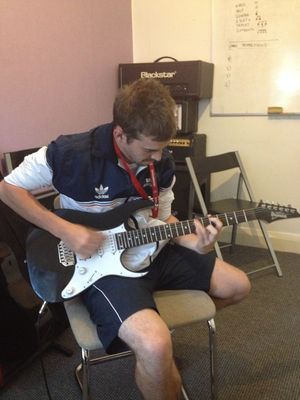 "So you've probably just brought a guitar, or are in the process of getting one, Congratulations! You're now scouring the Internet for videos on how to play the darn thing. After a few days of watching close to a hundred videos about playing '3 songs with 2 chords' and maybe being able to strum a few chords and playing a few notes, you turn to your partner and say "this sounds alright, doesn't it?"

Their reply, in a tone of mild optimism with a succinct lack of encouragement, "yeah, great..." At this point you have now realised what you must do, you have visions of being the next Hendrix, Hetfield or even Gallagher. This is why you have chosen to search for guitar lessons in Southampton. 
Well my friend this is your lucky day! You happen to be in the same place I was just under a year ago, a place of musical frustration and seriously sore fingertips.

In just under a year of sharing every Tuesday evening with Jimmy I have developed my guitar playing technique and I now feel comfortable playing a variety of music genres. The lessons are based around what YOU want to play and learn! Don't get me wrong, you don't simply ask to learn one particular song... Oh no, no,no. Jimmy teaches you the techniques and methods behind playing different genres of music allowing you to play a multitude of songs in the space of a few weeks! 
Listen, if you want to have fun, learn quick and for a good price, you are in the right place. Give him a call, trust me you will never look back. "
Rob P, Eastleigh. UK
---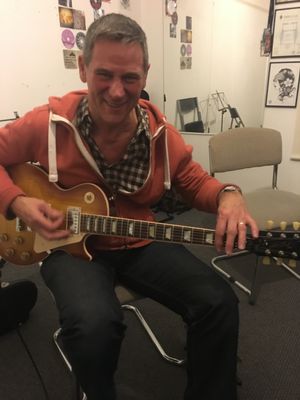 "Jimmy has been improving my guitar playing... - even my wife recognises the songs I'm playing now!
I have to say Jimmy is an excellent guitar teacher using your favourite music to teach theory and technique.
I would recommend anyone wanting to learn to play guitar to guitarists wanting to improve technique to contact Jimmy, you will not be disappointed!"
Ian. Romsey, UK
---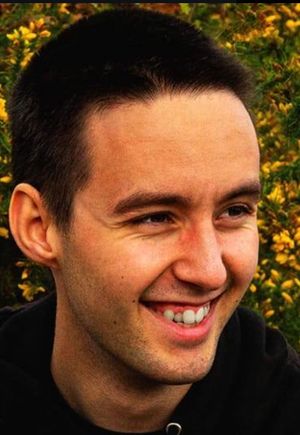 "I went to Jimmy as a complete novice.
He is a great teacher. I have progressed loads in the few months I have had Jimmy as a teacher.
Alongside teaching me how to play, Jimmy has helped boost my confidence to play in front of others. The guitar lessons are really well structured and Jimmy has a wealth of knowledge and also resources that he is happy to share."
Alex P.  Worcester. UK
---
Gavin: I feel far more confident in my abilities to play the guitar...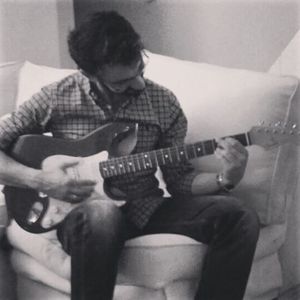 "I  tried teaching myself the guitar a while back, but hit a wall with my progression and stopped playing. I thought it would be good to get lessons to give me some structure and discipline to learning the guitar.
A quick search on the internet returned Jimmy, and after looking through his webpage at his credentials and testimonials I felt he was the guy to go with.
 
Since taking lessons I can honestly say that I have improved in all aspects of my guitar playing. I now have a good level of knowledge and abilities to go away and learn new songs, and have developed the confidence to play my guitar in front of other people. One of the biggest areas I have improved in is my timing, which I always found to be an issue.
 
I feel far more confident in my abilities to play the guitar, and more capable to go out and find new material to learn using the skills which Jimmy has taught me.
 
I found that within very few guitar lessons with Jimmy I was able to play far better than I had previously, so the returns you get are quite quick and incredibly satisfying.
 
I really enjoyed our lessons. Jimmy is such a great guy, and lessons were always fun. My favourite aspect of my lessons was when Jimmy had me playing around with notes on scales and he'd be providing the backing to whatever I notes I happened to be hitting.
You can tell Jimmy is really passionate about the guitar, music and teaching, and that really shines through in his lessons. He always provided great support when I got stuck and his supplementary materials which he provided online were great. It was always a highlight of my week having a lesson with him."
 
Gavin, Southampton, UK
---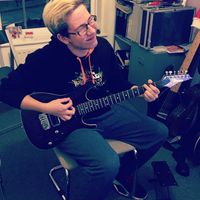 "I'm better on guitar now more than ever and feel confident. I've really improved a lot and lessons are amazing!
I've improved my technique & now everything I play is sounding clearer. 

We get to work on our own songs which is cool and I feel proud that I've managed to come up with some nice sounding ideas.The lesson pace is just right for me. Not too much or too little.I really feel more confident on guitar and giving things a go. I now know how to improve by myself if I mess up.
f you're thinking of taking guitar lessons- just do it! You'll never know just how good you can be until you try!" 

Max. Southampton, UK
 
---
Martin: "really helped give my enthusiasm proper direction in a relaxed and comfortable environment."